I decided to enter one of my med tech quilt blocks in Quilt Story's "Block" Party today. It was very hard to pick one, but I finally decided on my "mononucleosis" square. Maybe it's because we're all sick here...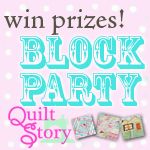 I have not 1, but 2 kids home sick today, and I was sick much of the week-end, so I didn't get a whole lot of sewing done. I did however make a quick kitchen towel. It's nice to make a little "pallet cleanser" project when I finish something big. It's a way to get a bit of quick satisfaction and change gears before starting another big project!
I also tried out some glow in the dark thread, which I'm really excited about. I just need to figure out how to get a good picture of it. But for now, nursing duties are calling....