I decided at the last minute to make up a modern quilt block for Quilt Story's Block Party contest. Click on their icon to see all of the other entries!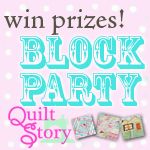 I made this block based on my "New Orleans" quilt.
This quilt is also my WIP for Freshly Pieced blog's "WIP Wednesday" today. That button is on the right. I can't wait to see what others are working on! I'm going to link up to both place (can I do that?). I started quilting it today, and am going to be doing a lot of walking foot lines. I still haven't entirely decided if or how to free motion quilt it. Hopefully I'll have something to show here in the next few days!!