One of the earliest quilt blogs I ran across was Annemarie's blog, "Gen X Quilters". As a fellow "Gen X Quilter", I was so excited to "meet" other quilters my age through her site. It really became a gateway for meeting others, and those sites for more, etc... Thanks Annemarie for creating this place!
Today I'm the featured "
First Quilt on the First
"!!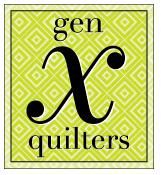 Head over there to see my first quilt, as well as one I finished less than a year ago!
Just for fun, here's my quilts number 4 and 5 (for my 2 nieces, who now have 2 more sisters). I don't think I'd sew with this shiny fabric again, but it was fun! Those tiny toes are those of my son, who now wears the same size shoes as his dad!