I recently submitted my quilt story to the blog, "
Quiltstory
" about the quilt I made for my husband, Chris for our 18th wedding anniversary. Well, it took me 19 years to finish it, since I started it when we first started dating. They put it up on their blog today! Go have a look!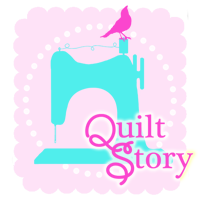 I also figured out how to post the "button" right up there! Whew hew! I'm sure you can guess that since I've been married for 18 years, that computers aren't something I grew up with, but sewing machines sure were. With Thanksgiving tomorrow, I have to give much thanks to all of the women in my life who taught me how to sew, my mom, my grandma, and my aunt (mom's sister). All of whom sat patiently with me and helped teach and guide me. I feel so lucky!